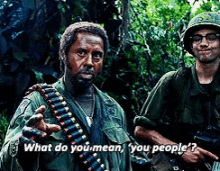 Jim you are giving them way too much credit. Even if it all worked AND the Pentagon was 100% on board (it seems like only the top level clowns though were) the states would have never gone along with it nor would DC. That is why Virginia sent their troops and Maryland was fighting to. If the coup works every New England State sends their guard right away. It would have been outright chaos. It would have just lead the dissolving of the USA if it ever got to the end point. Trump would have been the dictator of nothing but a bunch of Red States when all is said and done. But most likely as soon as the Virginia and Maryland Guard start shooting the Auschwitz crowd would have run for the hills.
Plus you need 100% buy in from everyone in a position to stop him. All it takes is one non-Trumper Secret Service Person to end all of it. Even his own inner circle wasn't all on board with it they were begging him as it happened to put out a statement to stop it. You assume he commands a loyalty level that has never been proven to be true. (otherwise we wouldn't be here now)
To tell you how out to lunch these people are they think Osama Bin Laden's niece is some insider who is someone to listen to. They flock to her because she tells them Trump will be President for Eleventy more years and they drool about it. Nevermind that most of these clowns hated Obama because he was supposedly a Muslim with a name that resembled Osama...