Tech had a pretty incredible season by the standards of any Huskies fan. While we didn't fill the trophy case with hardware, I think it would be nearly impossible to find a fan of Tech hockey who had goals set higher last Fall than what the Huskies achieved during the 2014-15 season.
10-0 Start
Dominated Michigan in their return to Houghton
No. 1 Ranking
Hosting first home playoff games since 1993 for WCHA Playoffs
Winning 1-0 in the longest game in MTU history
Two (almost three) shutout home playoff games for Phillips
WCHA Championship game appearance
NCAA Tournament appearance, first since '81
Tanner Kero - Hobey Baker Award Finalist
Jamie Phillips - Mike Richter Award Finalist
29 win season
Pearson 2nd all-time in career wins in his 4th season
Four players reaching 100 career pt milestone
Of course some may look at the final two games of the season and wonder what might have been - taking a 2-1 lead into the 3rd period of the WCHA Championship over eventual #1 overall seed Mankato and holding a 2-1 lead over SCSU with two shots at an empty net in the West regional semi-final. No doubt these are moments for the underclassmen to keep fresh in their minds as they move forward. Hopefully they are learning moments that will be a building blocks to even greater future success...
As closure to the 2014-15 season, I wanted to share some images which were my view of the end of this season. With sincere thanks to Michigan Tech and Tech Hockey Guide for the access to shoot these games (and these specific images from between the benches in Fargo) here is how I saw it...
You can click on the images to view the larger version in a new window.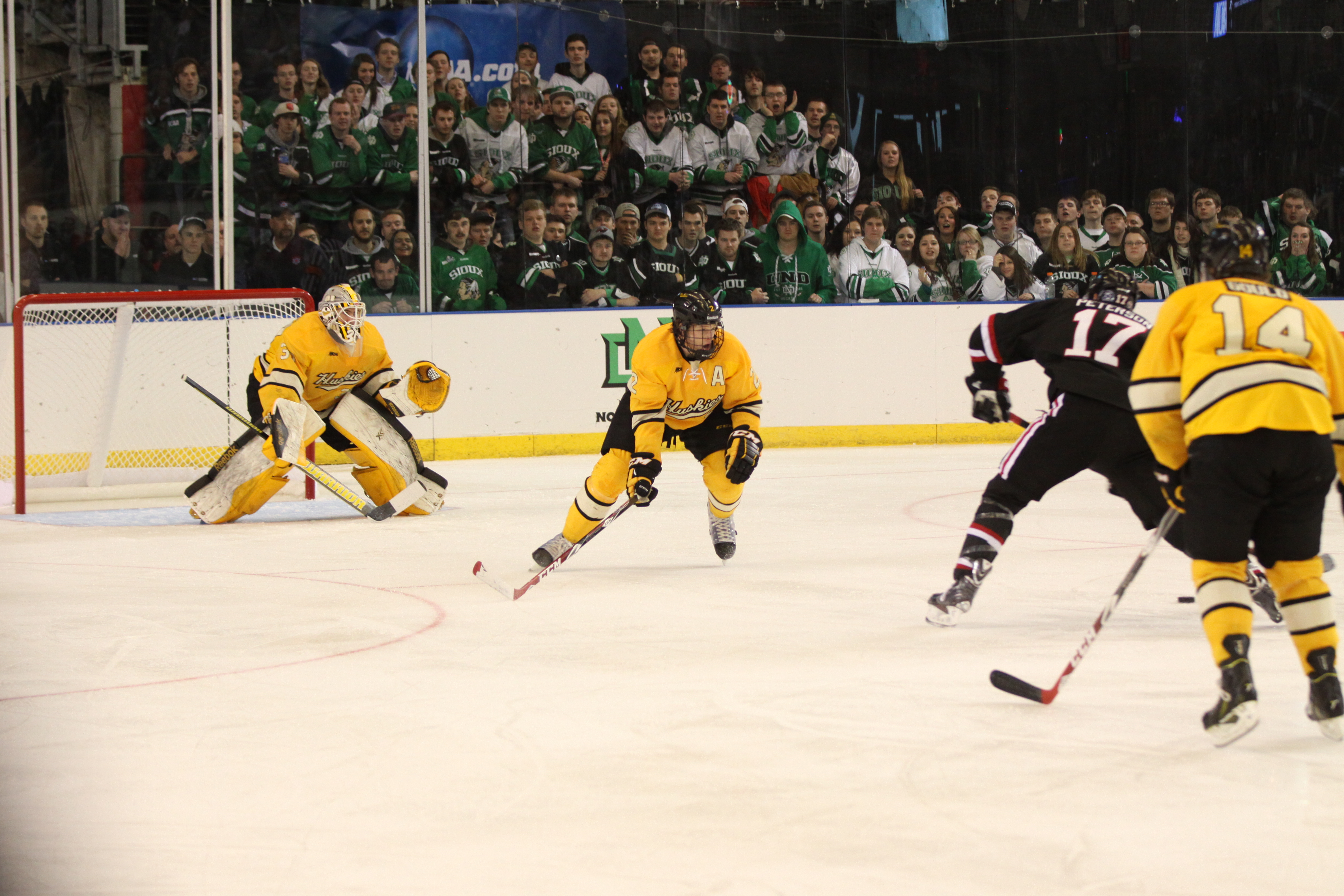 Cliff Watson (#2) lines up for a shot block attempt as SCSU's Peterson (#17) cuts towards the net with Gould (#14) attempting to get back into the play.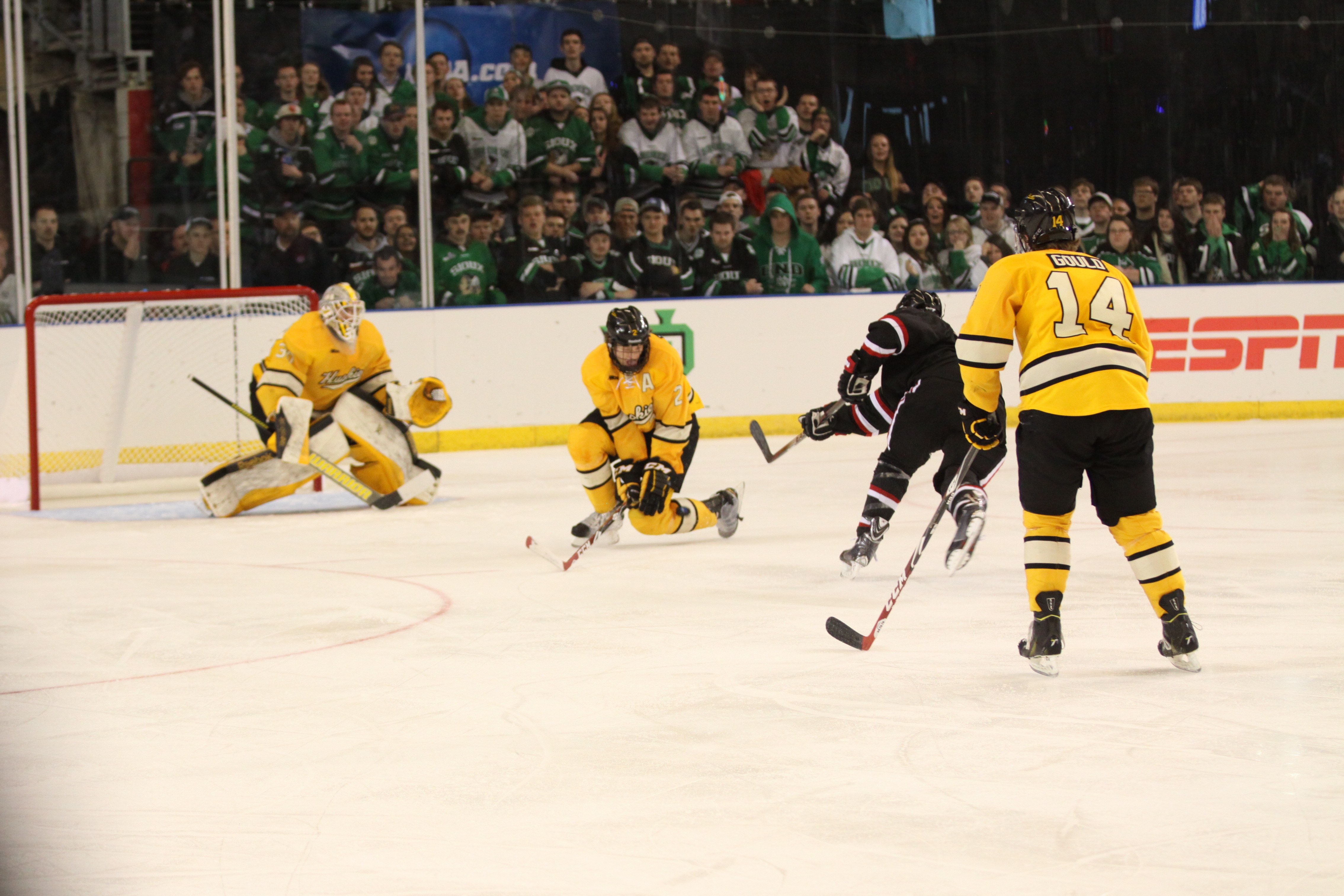 Watson squares up to the shooter and executes a near perfect block of the initial shot. Phillips goes down anticipating the low shot from Peterson.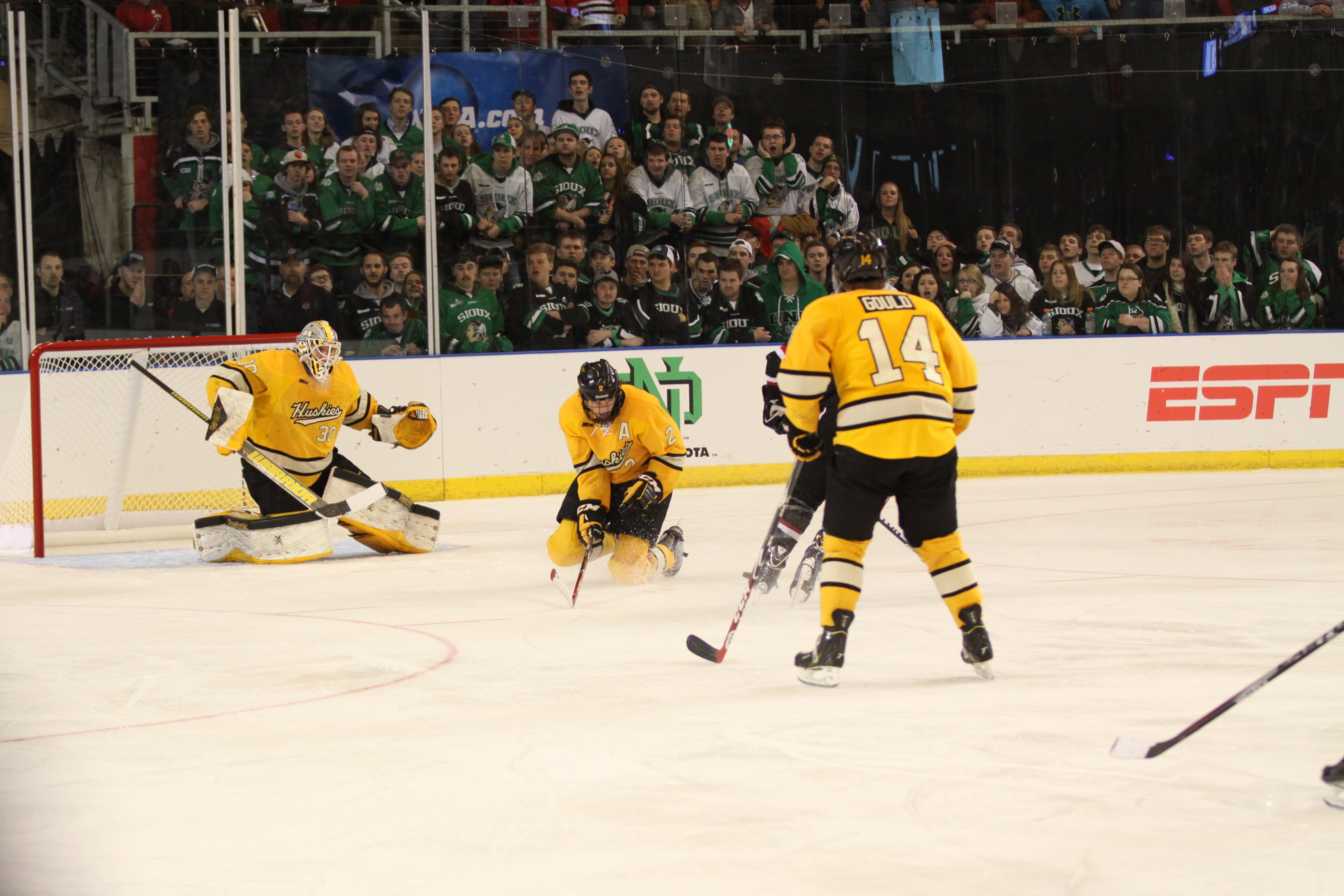 The pucks bounces off Watson's shin pad almost directly back onto the blade of the Peterson's stick (puck can be seen just to the left of Peterson's left skate).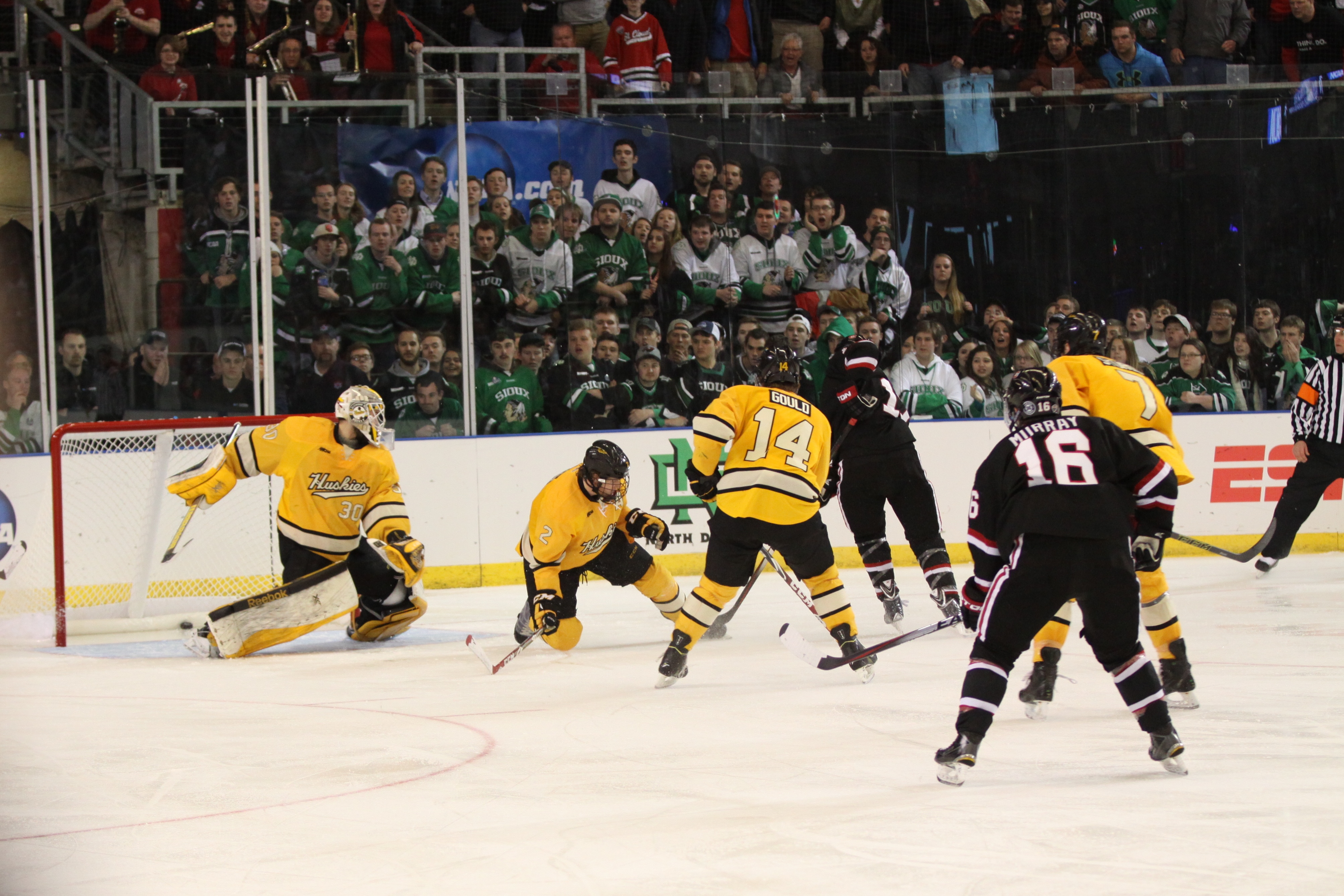 Jamie begins to push to his left in an attempt to reposition, but in a split second, with the shooting angle now changed, the puck is off Peterson's stick again and already in the back of the net.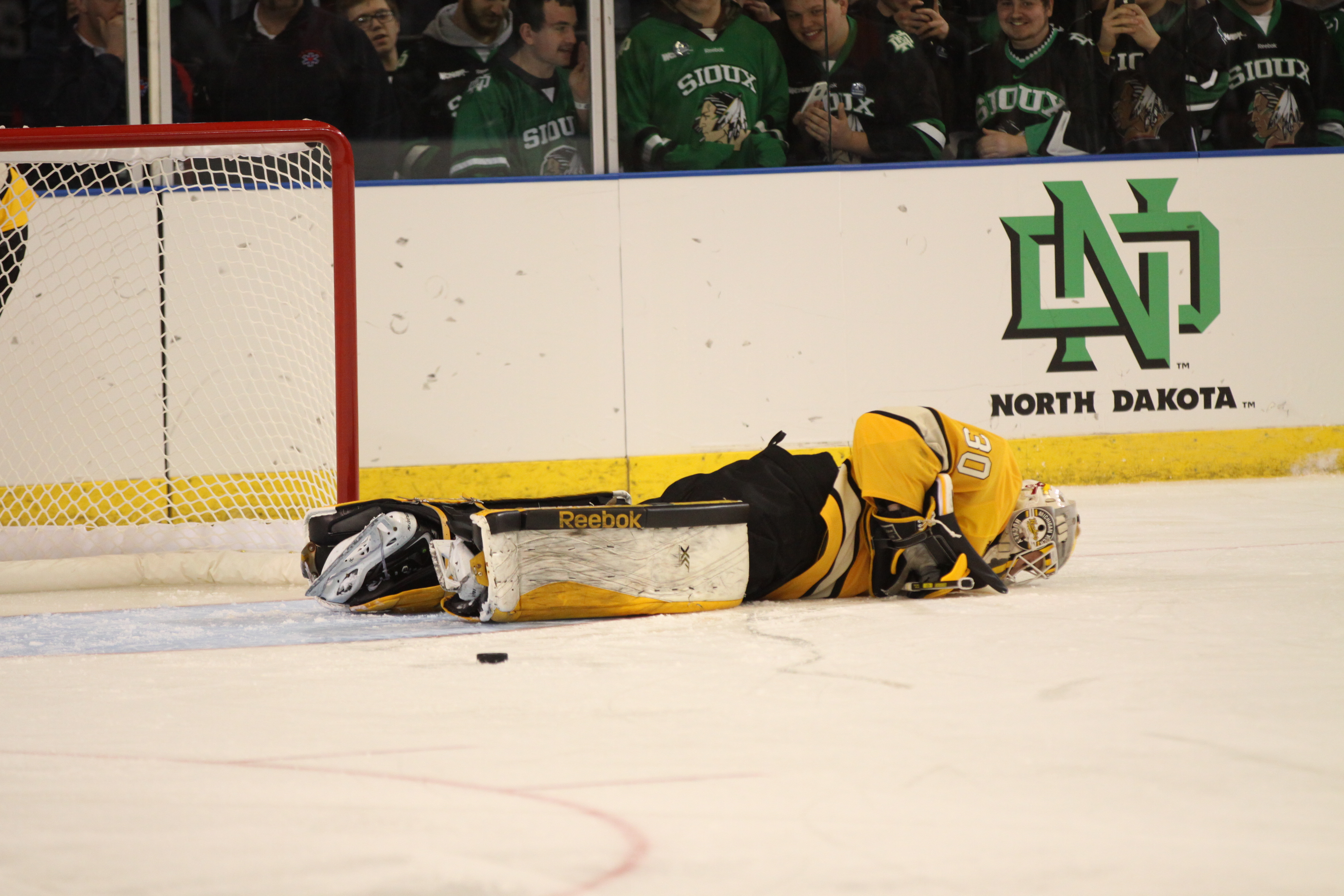 Another split second later, Tech's season is over, leaving Jamie momentarily alone with his thoughts and the puck.
This last photo is by Eric Hylden/Grand Forks Herald, but I felt it was the best one I saw from the end of the game. You can see in the players' body language that they were not satisfied with just taking part in that game. There were higher goals in their minds...
This year's team raised the bar substantially, but it is time to look forward... 2015-16 season here come the Huskies!
Go Tech!
Ryan J